Lake Arrowhead Real Estate
Realtor Debra Parkinson Joins Dilbeck Real Estate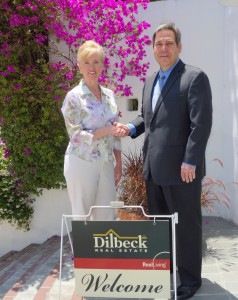 Mark Dilbeck, President of Dilbeck Real Estate Real Living is proud to announce that top producing Realtor Debra Parkinson, has joined the Dilbeck team.  "She is joining Dilbeck Real Estate to expand her reach and for the benefits of marketing client's properties on a regional level and we are very pleased with this new affiliation" said Dilbeck "I am excited to join the Dilbeck team which is known for its integrity; top quality, professional and well respected agents, and for its reputation of providing value to clients," said Parkinson, who has been a top 10% nationwide producer. "Dilbeck is a premier real estate company and if I want to continue to provide the best for my clients this is where I need to be."
Dilbeck has developed a legacy within the real estate community and traces its roots back to the 1950's when Bliss Keeler originally founded the company. In the years since, Dilbeck has built upon the solid foundation the founders established and they continue to maintain high ethical standards, provide superior service to their clients, and enhance their services with new technology and marketing systems. As a result, Dilbeck agents, known as Sales Partners, are better able to serve their clients.
Parkinson has been a Realtor since 1988 and a Broker since 1995; has owned two real estate franchises and has worked with a wide range of clients. "I have worked with clients ranging from a professional boxer, a famous Los Angeles sports broadcaster, a former US attorney, and your first time homebuyer," said Parkinson. "Regardless of my client's income, personality, or socio-economic status, I give them my absolute best and treat them like family. That's why so many of my former clients are now some of my best friends. With the added benefit of the respected Dilbeck brand and Christie's Great Estates affiliation, I will be even better able to serve my clients."
Parkinson's office at Dilbeck is located at the company's corporate office and she can be reached by calling (909) 224-3191, by visiting www.dilbeck.com, or by emailing her at
debraparkinsonglobalrealtor@gmail.com.
The Dilbeck network is a regional real estate system with 14 offices and over 700 sales associates. For more information visit www.dilbeck.com.